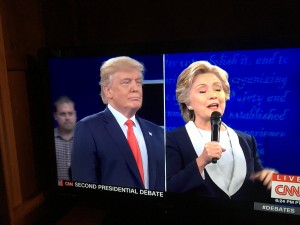 The title of this post sounds a lot like a high school essay assignment, and in some ways I feel like it could be. Election 2016 has much in common with adolescence-from the nasty name calling to the easily debunked fallacies, from the widespread rumors to the false friendships- that it would be more appropriate as a class election than one for the leader of this country. Yet as I realize this truth, I also finally understand that this election cycle deserves more than just contempt. Instead, Election 2016 should be celebrated, for in this election the fallacy of American excellence has finally been laid bare for all to see. The notion that American democracy is pure, that American voters are responsible, that Americans  want decent leaders, and that Americans as a people value equality, respect, tolerance, progress, and basic human goodness….all those ideals have been exposed as little more than window dressing at a bankruptcy liquidation sale.
We've known for some time now that our politics are broken. We've known that our media is corrupted. We've known that equality as an ideal we're far from realizing. We've known all this and yet been pretending the opposite is the truth, blaming "the other side" as the cause of all misinformation and negativity while lapping up the same drivel from our own "truth bringers" as we demonize those who support whatever we don't personally abide. These things didn't happen overnight, but Election 2016 bubbled them all up to the surface in such a way as to force anyone paying attention to either admit that everything is broken or be exposed as a total tool living in a house of cards.
Republicans can no longer deny that their base is heavily populated by racists, bigots, hypocrites and liars.
Democrats can no longer deny that their base is heavily populated by nepotists, apologists, hypocrites and liars.
Libertarians, Greens, and Independents can't deny that their groups are heavily populated by contrarians, deniers, excusers, hypocrites and liars.
The media can no longer pretend to be unbiased, truthful, thoughtful or investigative.
And America can no longer pretend to hold the high ground when it comes to democracy.
"Hold on there partner!" you might be saying to yourself as you read my condemnation of nearly every person around. I'm a (insert political persuasion here) and I'm not a (insert negative attribute here). Take a good long look in the mirror. Yes you are. And so am I if the truth is to be told.
We are all guilty of one or more of the aspects I've associated with the political persuasions listed above- and in some cases it's just a part of human nature. At some point or another we have all told a lie or been part of a hypocritical conflict, decrying the position or behavior of another while secretly indulging our own internal demons. And while we're not all racists, bigots, nepotists or contrarians, this election has exposed that a vast percentage of America is one or more of those things. We're an unruly mob of ugliness when it comes to politics, and in some cases, when it comes to our deep beliefs too.
How else can you explain the tacit acceptance of the filth that Donald Trump puts forth daily? How else can you explain the ability to brush aside the barely legal activities of Hillary Clinton? How else can you explain the unrealistic positions of Johnson or Stein? How else can you explain the wavering of the great mass of "undecideds" who will throw in behind one of these candidates? When Hillary Clinton spoke of baskets of deplorable she should have included more than just the supporters of Trump- she should have included us all and put herself, Trump, and the other candidates at the top of the heap.
Listen, nobody is perfect, and I'm not expecting them to be, but let's at least be honest with ourselves and recognize that what seems like a vile departure from decency is really just an unvarnished look behind the mask of who we really are. You can't consider yourself a good religious person and then reduce the behavior of the two main candidates as mere foibles while decrying the other one as "the destruction of all that America stands for." You can't consider yourself to be intellectually honest and then craft excuses about why certain behavior should be overlooked because "that's how it's done" or "well the other side did it first." What we have to recognize here, and to say out loud, is that America needs an intervention or we really will become that proverbial demagogue of international humanity.
It's time to step back from our self-imposed brinksmanship and accept that we need to become better people. It's time to stop making excuses for each other's worst behavior while fomenting our own discord. It's time to put an end to divisive politics for sure, but also to divisive living in general.
It;s OK to disagree on the amount of and proper use of taxes. It's OK to debate whether or not we should provide support to other countries or explore outer space or how to educate our children or protect our citizens.
But it's not OK to devalue each other based on race or gender or sexual orientation or personal religious beliefs. It's not OK to support others who would divide us for their own personal gain. It's not OK to turn away from the hypocrisy others only to embrace it for yourself.
All these things have been boiling under the surface of our "polite society" for far too long. Finally, thanks to the 2016 Presidential Election, we are seeing ourselves for who we are. It's not a pretty picture and we have some serious work to do moving ahead. Our next president is going to be someone none of us should admire. Deal with it. But let's perhaps take the next four years to actually make ourselves better-as people, as parties, as a country. Let's work on us, and demand better than this from our leadership- political leaders, business leaders, spiritual leaders-and come back as a better country altogether.
This entry was posted on Wednesday, October 12th, 2016 at 11:58 am and is filed under Common Sense, Democracy, General, Government, Life, Politics, Presidential Politics, society.
You can follow any responses to this entry through the RSS 2.0 feed.
You can leave a response, or trackback from your own site.

Theresa VanAtta Says:
October 12th, 2016 at 1:46 pm